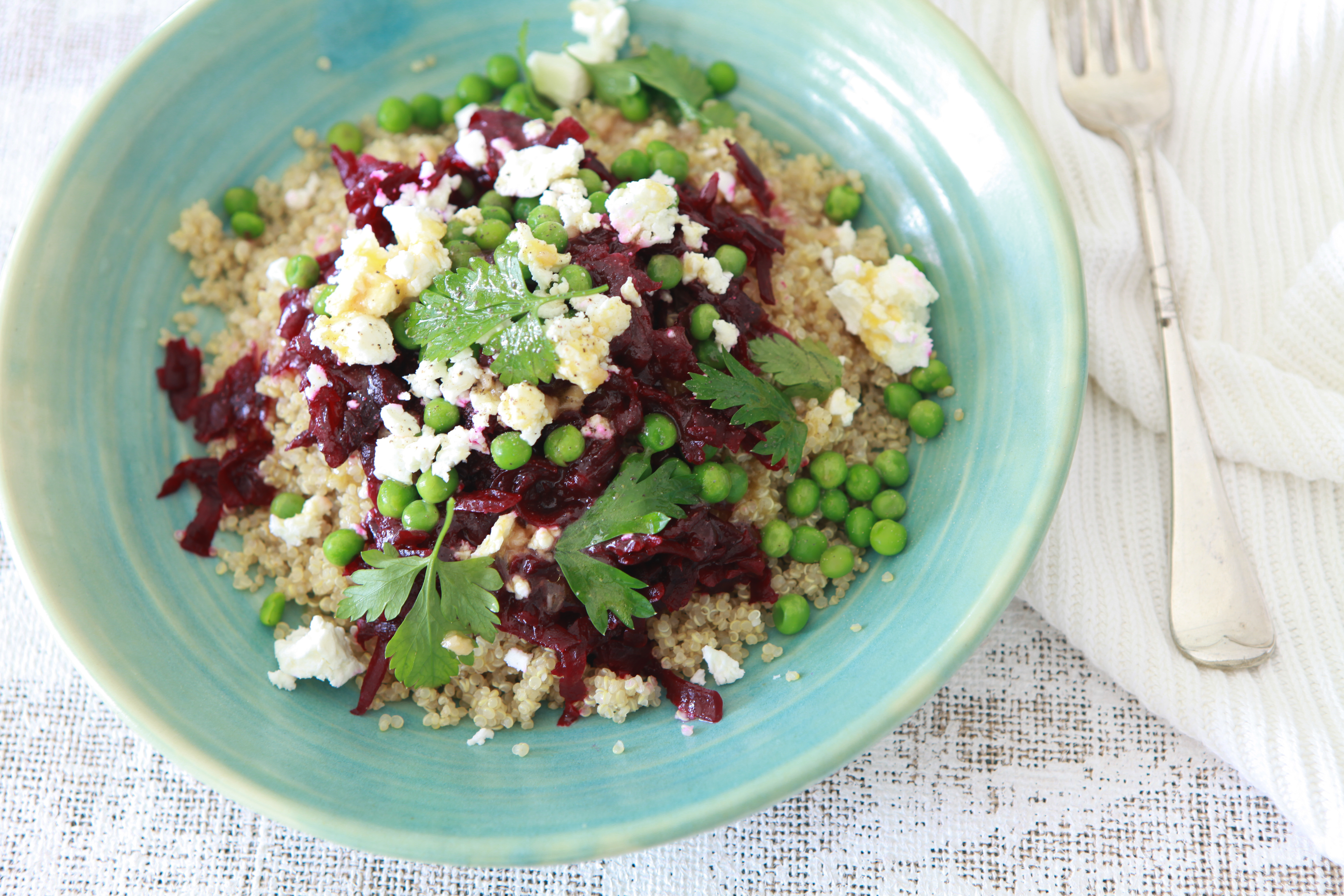 Beetroot, pea and feta quinoa salad
One of my favorite salads to make when I am invited to friends and asked to bring along a dish. Perfect for a dinner party side dish or a light lunch.
Ingredients (serves 6)
2 cups of cooked quinoa (I cook Quinoa the same as I would brown rice)
2 large beetroots
Bunch of fresh mint
1 cup of fresh or frozen peas
1 block of goats Feta cheese cubed
1 Lemon
2-3 tbsp of balsamic dressing
Olive oil to dress
Salt and Pepper
To Make:
Cook your quinoa in water or home made stock and set aside to cool
Wash your 2 beetroots in water. Wrap the 2 beetroots with 2 layers: the first is baking paper and the second is tin foil. Place the 2 beetroots on a baking tray and bake for 1.5-2 hours in a 180(c) oven. Let the beetroots cool down and grate them into a bowl.
Defrost the frozen peas or steam the fresh peas. Drain any excess liquid.
Wash, de-stem and chop the mint leaves.
Prepare the dressing: lemon juice from a whole lemon, 2-3 tbsp of balsamic vinegar, about 4-5 tbsp of olive oil and salt and pepper to taste. Taste the dressing and adjust.
Mix all the ingredients in a bowl (grated beetroot, quinoa, peas, feta and mint) and dress with the dressing. Adjust the flavor if needed by adding more olive oil or balsamic vinegar.
*Note: if the salad is missing something sweet you can add in 1 cup of halved grapes or fresh  blueberries.
*Can be stored in a glass container for up to 5 days in the fridge.