Kids Nutrition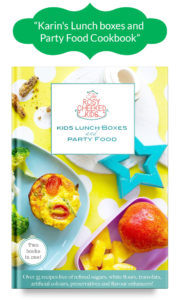 1 in 3 children born from the year 2000 is going to develop type 2 diabetes. We have more overweight and obese children in the world right now than starving children. We are seeing astonishing numbers of allergies, asthma, eczema, autoimmune disorders, chronic infections, weak immune systems, children's cancers, attention disorders, autism and diabetes in very young kids.
Even though our medical infrastructure and care has improved significantly we are still seeing a trend that our children are getting sicker and sicker. Lack of activity (generation ipad), processed, chemical ridden and genetically modified food that has very little nutrients in it is the main culprit.
My aim is to educate you, the parent, and provide the tools needed to bring your children to WANT to eat healthy, to WANT to make smart and healthy food choices because they will understand how important it is for their body, their health and their future.
As parents we invest endless effort, time, consideration, money and attention to our children. We teach them to read, to write, to draw, to be polite, to ask questions, to listen…. We send them to ballet, art, maths, judo, piano. We explain to them how things work, we take them traveling but most of us do not teach them how to eat healthy. Kids also need to learn about food. What to eat, how to prepare it and what is good for them. Who needs to teach them this? YOU!!!!
When we go out of our way to serve children only food that they are likely to eat, or make a big deal about their limited food selections, our actions, and sometimes our words, are saying I don't think you have the ability to become a good eater. Children, already apprehensive about eating certain foods, will lose confidence in their ability to try, experience and accept new foods. 
I work with you to improve your kids nutrition but also on how you can model the behaviour you want for your child in terms of eating. It is important to let them know you believe in them 100% and to keep giving them plenty of opportunities to make healthy choices in a supportive environment.
#KarinKnows
If you as a parent make a decision to eat healthy and have your family eat healthy and you will feel like your decision is 100% right, for you and your family then you will succeed. If you do not show commitment, if you do not serve as an example, if you have doubts your child will pick this up from you.

Get your partner on board – don't show your child two schools of thought, this may mix them up.

Prepare your weekly menu and new healthy eating rules (for example: no coke or sprite in the house, we eat vegetables in each meal, in the house we drink only water…)

Collect lots of healthy recipes from blogs, cookbooks, internet and friends

Decide on a shopping day and a cooking day and get the kids involved.

Have a "clean house". The house should be the clean zone with no or little junk and processed foods. Prepare snack like fresh and dried fruits, vegetables, air popped popcorn, home-made cookies, smoothies and muffins.

Water should be the main form of liquid in the house, it's better for our health, pocket and environment.

Don't buy unhealthy snacks for your guests, show your kids that everyone eats by the same rules

Get your kids active; instead of a family meal at a restaurant have a picnic in a park and throw around the ball or get the kids to ride their scooters.

Don't let your children become emotional eaters by promising them a treat or dessert if they finish their vegetables.

Decide on boundaries and stick to them.
Recipes
Strawberry coconut ice pops
Nut Butter Apple Sandwich
Mini Zucchini Patties with Tzaziki Dressing
Workshops
Optimise your Childs Immune Function Through Natural Nutrition & Natropathy
Kids Eat Healthy Workshop
Beautiful Babies – Introducing Solids
Related Links
Healthy Party Food for Kids
5 "Brain Foods" to Feed Your Child Daily
Importance of Iron in children's diet